Masonry Services in Murrieta, CA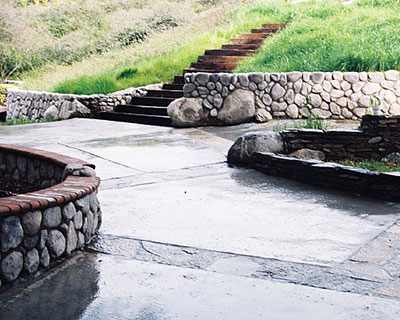 If you are looking for a local masonry contractor who would be able to provide high-grade services at affordable rates, you are at the right place. We at Pitkin Landscape & Design are one of the leading companies in the industry. Over the years, we have handled a significant number of masonry projects for clients in and around Murrieta, CA. We have the knowledge, expertise, and skills to tackle projects or any shape or size. The variety of services we offer include:
Masonry Contractor
Masonry features are integral to landscaping projects. These installations add resilience stability and structure to the landscape. When you are getting any masonry features installed, you need to be sure that the company you hire has the skills and experience to tackle the job correctly. We have been operating in this industry for several years and have handled many masonry installations projects in Murrieta, CA. Whether you need pavers installed, garden steps, retaining walls, a deck, driveway, or pathways constructed, we can help.
Stone Masonry
Natural stone has an undying appeal; it is no surprise that many property owners and landscape design professionals include different types of stones in the landscape designs and plans. However, stone masonry installation needs exceptional skills and knowledge, and that is something we have. Our team of stonemasons are skilled and experienced and have handled many stone masonry installations in Murrieta, CA. We are committed to providing our clients value for money and ensuring that all the services we provide are affordable.
Stone Veneers
Property owners like the idea of using natural stone in various landscaping features. However, natural stones are quite heavy, and the installation is complicated, increasing the installation cost significantly. If you like the appearance of natural stone but want to do away with these other issues, you can opt for stone veneers. These veneers are sliced natural stone tiles that can be installed on any feature and various surfaces in indoor and outdoor areas of your home.
They lend the appearance of natural stone but are not heavy, and the installation is quicker too. Also, these products are more cost-effective than the real things, which makes stone veneer installations in Murrieta, CA, an excellent choice when on a budget. Also, certain features do not have the strength to support natural stone structures. Even in these situations, stone veneers become an excellent option.
Cost-Effective Stone Masonry Services
When you hire us for stone masonry installations in Murrieta, CA, you get the best solutions. We are committed to offering all our residential and commercial client's excellent value for money. You can be sure that our customized services will meet your needs.
If you want any additional information or details about our high-grade stone veneer installation solutions, feel free to contact us at this number. You can also send Pitkin Landscape & Design and email through this Contact Us form, and one of our team members will contact you shortly to discuss various aspects of your project.