Landscape Services in Winchester, CA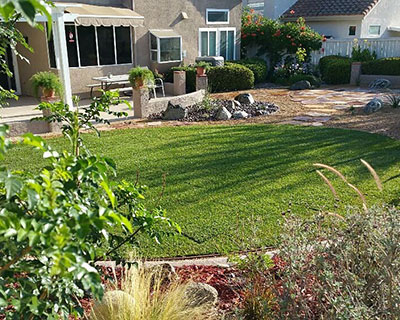 If you are looking for a local landscape contractor who would be able to provide the best quality services at affordable rates, you are at the right place. Pitkin Landscape & Design is one of the front running companies in the industry. Over the years, our experts have tackled a significant number of landscape design and installation projects for clients in and around Winchester, CA. We have the expertise, knowledge, and skills to manage projects of any shape or size, and we are equally committed to every job. The variety of services we offer include:
Landscape Contractor
When you hire the services of a landscape contractor, it is necessary to ensure they would be able to provide you an all-round solution for any type of masonry or concrete project. After all, you do not want to run to multiple operators for various services. As a company that has experience in the industry, we are the local landscape contractor in Winchester, CA, that can provide you with the best quality services at the most cost-effective price.
Our team of designers works very closely with you to understand your specific requirements and vision for the outdoor spaces. Based on the discussions they have with you; they will provide you with the best quality designs and plans and handle the installation to industry standards.
Landscape Design
Designing a landscape involves creativity and skill. It is also necessary for the landscape designer to have complete information about different materials, design concepts, soil, plantings, and more. We have handled many landscape design and planning projects and have an excellent understanding of all these concepts.
Our team of landscape designers in Winchester, CA, is very skilled and creative in their approach. The layouts and plans that they offer will always be in line with your requirements and will enhance the overall appeal of your landscape. They also make sure to provide you with detailed information about various materials so you can make the right decision for your project.
Landscaping
Many different aspects need to be kept in view when you are getting any landscape work done. We are a company that has been operating in this industry for many years, and we offer start-to-end landscaping services in Winchester, CA. Not only do we provide excellent landscape designs and plans, but our team will also help you with pavers and other materials selection. We source the best planting and hardscaping materials so that the installation of your landscape is completed to industry standards. In addition to the installation of landscaping, we also offer the best landscape maintenance and repairs services.
Affordable Landscape Design and Installation Services
We ensure that when you hire us for any landscape installations in Winchester, CA, you get outstanding solutions. We are committed to offering all our customers excellent value for money, and its why we customize our services to meet your needs.
Please feel free to contact us if you want any more information or details about our custom landscape design services. You can also send Pitkin Landscape & Design and email through this Contact Us form, and one of our team members will contact you shortly.