Paver Installations in Temecula, CA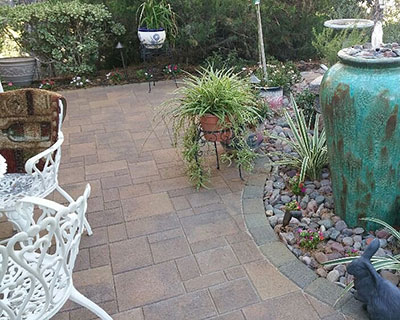 If you are looking for a local patio paver installation contractor who would be able to provide high-grade services at affordable rates, you are at the right place. We at Pitkin Landscape & Design are one of the leading companies in the industry. Over the years, we have handled a significant number of masonry installation projects for clients in and around Temecula, CA. We have the knowledge, expertise, and skills to tackle projects or any shape or size. The variety of services we offer include:
Paver Installer
When you want any pavers installed on your property, you need to be sure that the company that handles it has the experience and skills to tackle the project to industry standards. We have been in this space for many years and can offer high-quality paver installation solutions. On our team are skilled and experienced paver installers that have worked on numerous commercial and residential projects throughout Temecula, CA. Our experts make sure that the installations are done systematically after proper site prep. They install every unit, so it is stable, and the entire feature is that way too.
Patio Pavers
A patio is a popular outdoor living feature on residential properties. When you are getting this constructed, you need to be sure that suitable quality materials are used; it is where paver stones come in. You can choose from patio pavers made of concrete, natural stone, or brick based on the aesthetic you prefer. We will help you with material selection and handle patio paver installation Temecula, CA, to industry standards. We have extensive experience in all types of patio paver installation projects, big and small. No matter what your paving needs, we are here to help with every aspect of the project.
Driveway Pavers
Your driveway sees a significant amount of wear and tear over time, making it necessary to ensure that the right quality materials are used in the feature. It is why we recommend the use of driveway pavers in Temecula, CA. We work with you, keep your ideas and requirements in view and ensure that your driveway paver installation is top-of-the-line. We are here to provide you with all the details you need about the different types of paving products available on the market and the pros and cons. This detailed information helps you make a better-informed decision about the types of driveway pavers you need.
Cost-Effective Paver Installation Services
We make sure that when you hire us for all types of landscape design and installations in Temecula, CA, you get nothing but the best solutions. We are committed to offering our clients excellent value for money, and our customized services are sure to meet your needs. We go the extra mile to ensure that you are 100% satisfied with our services.
Please feel free to contact us if you want any more information about our high-grade driveway paver solutions. You can also send Pitkin Landscape & Design and email through this Contact Us form, and one of our team members will contact you shortly to discuss your project details.