Landscape Design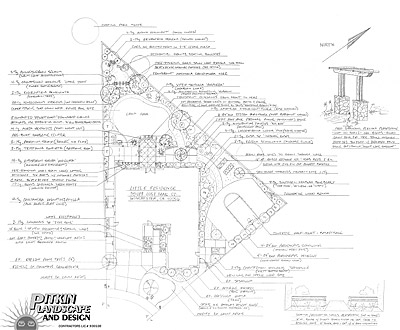 Creating stunning outdoor spaces is a lot about the right kind of design and installation. When you hire an experienced company for the job, you are assured that your yard and garden spaces will be more functional and attractive. The right kind of design and elements can encourage you to use these spaces more often.

Pitkin Landscape & Design provides excellent Landscape Design solutions to customers in and around Temecula, Murrieta, Anza, and Menifee. Over the years, they have also handled a large number of projects for clients across Winchester, Wildomar Lake as well as Elsinore. The company provides services such as:
Landscaping Ideas
As a homeowner, you are sure to have some ideas for how you want your landscape too look. A good landscaping company will be able to work on those ideas and add some of their own to create the kind of spaces you need. The ideas and plans will be based on the architectural elements of your home and the features that already exist on your property.
Garden Design
The manner in which your garden is designed has a significant impact on the overall look of your property. In fact, these outdoor spaces are one of the first things that any visitor to your home sees and it's important that they be planned well. Good garden design also helps make the available space more functional and you are able to use it in a more optimal manner. The proper segregation and demarcation of these spaces also helps create a neater and organized look in these areas.
Patio Design
Your patio is an extension of the indoor areas of your home and it adds to the functionality of your yard. Since it is a transitional space, you need to ensure that the design and elements used here complement the look of your home as well as the yard. This is something a skilled landscaper will help you with. They will take your requirements into account, understand what your design preferences are and then provide solutions based on these aspects.
Landscape Designer
If you want to be able to use your garden and yard in a more functional manner, it's a good idea to hire the services of an experienced landscape designer. These professionals focus on understanding what kind of landscape plans will match your requirements and will then provide perfect designs with the kind of features and elements you need.
Landscape Architect
When you want landscapes that complement the look of your home, you would have to hire a skilled professional to provide you plans and designs, and that's what a landscape architect does. The company that provides this service will ensure they incorporate all your ideas and the designs you approved at the start of the project. They will ensure your garden and yard spaces are stunning and functional too.
Creating resilient and long-lasting outdoor spaces is a lot about using hardy materials and hiring experienced contractors for the job. When you choose to get your landscape design done from a company like Pitkin Landscape & Design, you are assured of high-grade workmanship and top notch service.
"MORE ARTICLES"
Patios
Pavers
Retaining Walls
Decorative Concrete
Masonry Contractor