Patios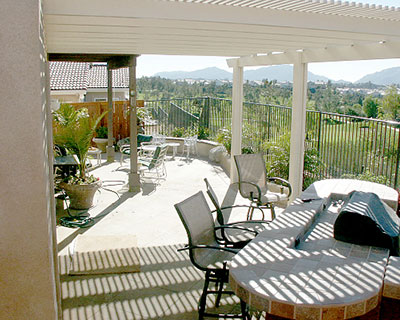 Your yard adds to the openness and beauty of your home and becomes the perfect space to spend some leisurely moments with your family. If this area is planned well, that can add to the functionality of your yard and you will find it also becomes the ideal space to entertain your guests in. However, this can happen only if you hire a great company to design and install your patio for you.

Pitkin Landscape & Design provides excellent Patio Installation solutions to customers in and around Temecula, Murrieta, Anza, and Menifee. Over the years, they have also handled a large number of projects for clients across Winchester, Wildomar Lake as well as Elsinore. They can help you with services such as:
Patio Ideas
Even though a patio might seem like a very simple installation, it has to be planned well. The landscapers will help you with the design and plan and will provide ideas and themes for this space. They will also suggest which materials will work best for your patio and this helps you make a more well-informed decision about how you want this space to be. They will ensure that your ideas are incorporated into the plans and that the installation is just as you envisioned it to be.
Patio Designs
The design of your patio should blend in well with your yard space. In fact since this is a transitional feature, it's important that the design, theme and materials match the appearance of the indoor spaces of your home. Many homeowners like to get a fireplace or fire pit installed on their patio and the company you hire for this job should be able to handle that requirement too. They will provide outdoor lighting ideas and suggestions about the flooring materials that have to be used.
Stone Patios
Natural stone has a very classic style and is perfect for outdoor spaces like a yard. You will find there are a number of stones to choose from such as flagstone, slate, travertine, bluestone etc. You can get paver stones of this material installed. They are low maintenance and durable and will be able to weather climatic changes. High grade patio flooring adds to the attractiveness of your yard and to the value of your home.
Patio Blocks
Patio spaces are almost always exposed to the sky and have to withstand climatic changes, the UV rays of the sun as well as a lot of dust and dirt. This means they have to be made using hardy materials such as patio blocks. These blocks are made of concrete and are extremely resilient, which makes them ideal for outdoor spaces. They are also very easy to maintain and are long lasting too.
Creating resilient and long-lasting outdoor spaces is a lot about using hardy materials and hiring experienced contractors for the job. When you choose to get your patio installations done from a company like Pitkin Landscape & Design, you are assured of high-grade workmanship and top notch service.
"MORE ARTICLES"
Pavers
Retaining Walls
Decorative Concrete
Landscape Design
Masonry Contractor